Most of Phuket's best and beautiful beaches are found on the western coast. Beaches with aqua warm waters, powdery sand, casuarina and palm trees, each one has its own uniqueness and which you prefer will depend on your personal tastes.
Most of the popular beaches on Phuket are on the west coast. The east coast beaches have great scenery, but are usually surrounded by mud flats and mangrove swamps, so swimming isn't that great!
Here are some of Phukets top (West Coast) beaches and bays starting in the South and heading North:
Mai Khao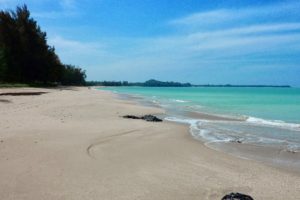 In the north of Phuket near to the airport this is Phuket's longest beach with good clean, white sand. It is situated next to a mangrove area which has been preserved as the new Sirinat National Park. Bang Thao Another nice long stretch of sandy beach where you can relax without the noise and throng of people you would find at the more popular beaches. The beach is lined with several upmarket resorts, most of which are part of Laguna. Elegantly tall coconut palms shade the mile long beach. If your mother in law has joined you on your romantic holiday, then sitting her under a coconut tree might get the result you desire.
Surin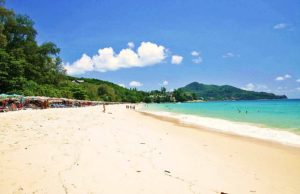 This is a lovely wide sandy beach and has no development on it. The water can have a dangerous undertow especially during the monsoon season (May to November). Surin Beach is a beautiful place to view the sun set. Big enough to find your own little space to sunbathe without finding yourself wedged between two tourists of Sumo proportions. Kamala The location is terrific, a fishing village amidst coconut trees fronting the beach. Like Surin, however, the bay has a bad undertow. Probably because most of the villagers here are Muslim, Kamala Beach is one of the only major beaches in Phuket that does not have a lot of development, and because of this, is a peaceful location.
Laem Sing (Sing Cape)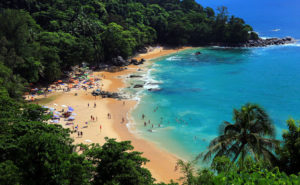 Outstandingly beautiful, this is a small stretch of beach with waves crashing against huge granite rocks. There is a parking fee to pay, unusual in Phuket. You have to walk down some steep steps to reach the beach, quite a hike on the way back up, but worth it.
Patong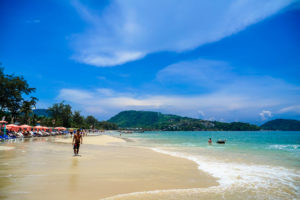 This is a long crescent shaped beach and ideal for people who prefer a busy resort. Patong is a great beach with rocks jutting out into the sea, however it is spoilt by an assortment of water sports, rows of beach chairs, hawkers on the beach thrusting unwanted jewellery and large wooden elephants under your nose numerous times every day, and fierce looking ladies offering massages and hair braiding. You might find yourself walking away with braided plaits and a lovely Thai silk bed spread tucked under your arm without realising you had agreed to it!
Karon Bay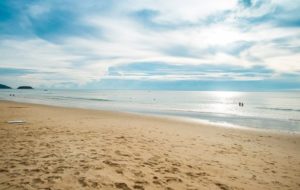 One of Phuket's loveliest beaches, and unfortunately, one of its most dangerous during the monsoon season. The long white beach with its tall palms and the rolling sand-dunes provide the perfect scene. The sea water here is clean and the sand is powdery. One of the best places for swimming and sunbathing in the high season, wild and untamed in the low season. If you happen to meet a slim beautiful Thai lady on the beach and think it is your lucky day, take note if she greets you with a firm handshake and bobbing adam's apple.
Kata Beach Bay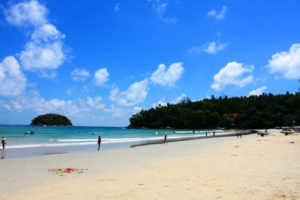 There are two beaches in Kata, Kata Yai (Big Kata) and Kata Noi (Little Kata), separated from each other by a small headland. Both beaches have white sand, calm, clear sea and a colourful underwater world. Kata Yai is popular with families, full of beach chairs but much more relaxed than Patong and there are very few hawkers. Kata Noi, A wide beach in a small cove, an idyllic setting.
Nai Harn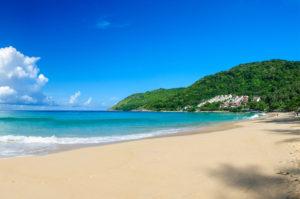 This is one of the loveliest beaches on Phuket, lying between two ridges and facing the setting sun. Just behind it is the shallow lagoon. Nai Harn is a place for those who love the peace and quiet, you will not be able to rent a jet ski or ride an inflatable banana here. Another beach you should not swim at during the monsoon season, look out for the red flags. Rawai Located to the south of the island this beach has a rocky shoreline and is not really for swimming. You will find long tail boats leaving from here to nearby islands and fishing trips. If you are fed up with looking at wrinkly old backsides and stomachs heading for the floor then this is a good beach area where sea-people reside and where several restaurants provide delicious seafood that can be eaten directly on the beach.
Kamala Bay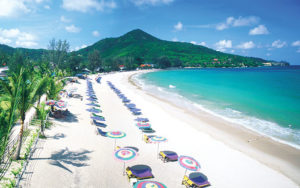 Much quieter than the neighboring Patong, Kamala is another beach with great sand, views and character. Definitely a good alternative to Patong if you have convenient transport.
Bang Tao Bay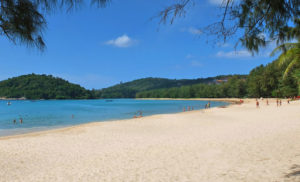 Long sandy beaches which are much quieter than the southern beaches, due to the size, and the less populated tourist scene. A great place for a peaceful day on the beach.
Nai Thong Beach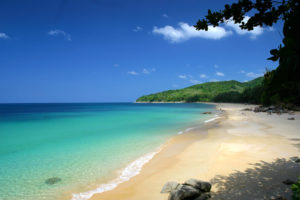 More popular with the local Thais (probably due to the lack of westerner tourists) Nai Thong Beach is one of the least populated beaches on the west coast of the island. If you have the time to make the trip, it's worth the drive.